ECOSA VS BAMBILLO
One mattress. Three firmness levels.
Swap at the comfort of your home.
Queen Size Mattress Comparison
Bambillo

$1099

$899
$3079-$10000
$200 off

Adjustable Firmness ?(Medium, Medium-Firm, Firm)

Ergonomic Support Foam ?

Waterproof & Dust Mite Free

4-Hour Delivery to Metropolitan areas

100 nights
30 nights
15 years
10 years
See the Mattress
What makes the Ecosa Memory Foam Mattress unique?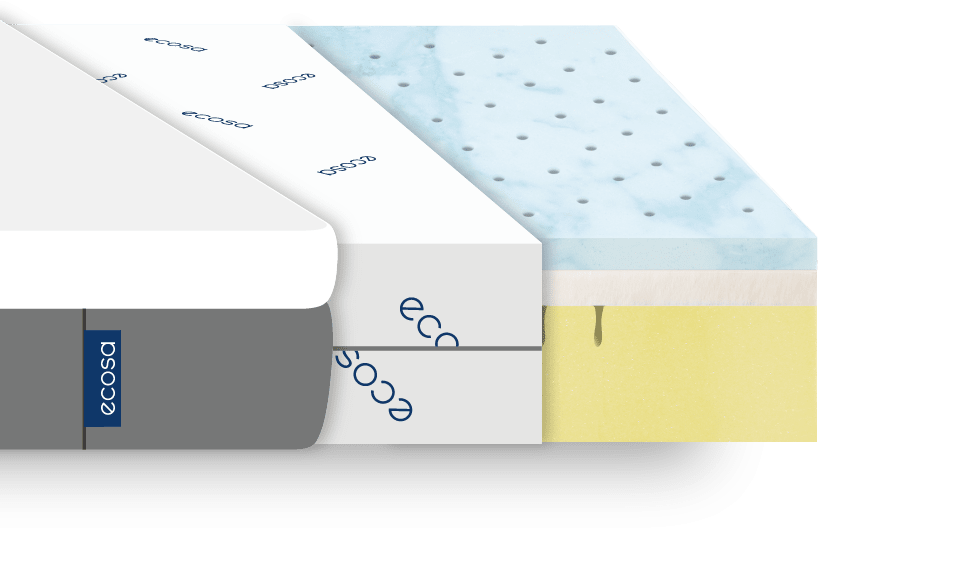 1
Adjustable Firmness
Our mattress comes in three well-engineered layers. There's a firmness level for every sleeper. We've got your back.
2
Extra Coolness
Never sweat in bed again with our built-in air circulation system. The layers are tied in together through pin-core holes - letting your mattress breath through the night.
3
Waterproof and Dust Mite Free
Sleep clean and easy with our waterproof and dust mite free inner cover. It keeps your mattress safe from allergens, dust mites, and even liquid spills.
Mattress Scenarios
It can't hurt to be a little prepared.
What if I have a preferred firmness level for my mattress?
Each Ecosa mattress comes with three layers of firmness that you can swap easily whenever. While Bambillo offers only one firmness level, we think each individual is unique and has a right to change-of-mind. Not feeling medium-firm anymore? That's perfectly fine – just flip the layers over.
What if my dog or kids wet the bed?
Not a worry! Our mattress is protected with a waterproof inner cover made of German micro-filaments. This is a specialised fabric for oil and liquid absorption. Should there be a pee incidents, there won't be seepage through the mattress. Just take out the cover and run it in the washer.
What if I want to return the mattress?
If you're not in love with the Ecosa within 100 nights, you may return it free-of-charge. If you choose to return a Bambillo mattress, you will have to incur the costs of shipping it back. Here at Ecosa, we'll accept returns for any reason within the trial period, pick it up for free, and give you a full refund for it.
Packaged and Sent with love
Hassle-free from Point A to Point B.
We source all of our raw materials and have them made at our own manufacturing facility. This allows us to be more hands-on with our processes.
Our mattress comes compressed in a box for easy assembly and manuevering. It can be a one-person job if you're physically-able.
How Much Should A Mattress Cost?
Home shopping involves securing airtime on television channels. Airtime easily equates to thousands or even millions of dollars for exposure. The telemarketers whom callers speak with also get commissions for every sale they make – doubling or tripling the costs of a mattress! Luckily, you don't have to break the bank for a good night's sleep with an Ecosa mattress.
Don't love it for any reason? Return it to us free-of-charge within 100 nights.
Get better quality sleep for less. Take $200 off your mattress today.
We'll take it from here.
Outstanding Customer Service
Our Dream Team is available to answer any queries you may have Mon-Fri 9am-5pm AEDT.
Free Shipping & Returns
No added or hidden costs to your mattress. We'll ship and pick it up free-of-charge.
Same-Day Delivery
Get your mattress within the same day in Melbourne, Sydney, Brisbane, Perth, and Adelaide!
Shop Now
Ecosa Gives Back

All mattress and pillow returns go to our partner charities. To date, we've donated a total of 4,000+ mattresses and 400+ pillow across our operating countries.
Better nights are coming
You can take their word for it.
More Reviews