Queen Size Mattress Comparison
Sealy Posturepedic

$1099

$899
$2099 - $15499+
$200 off
Depends on the retailer

7-Day Online Customer Service

100 nights
15 years
10 years

Adjustable Firmness ?(Medium, Medium-Firm, Firm)

Pick firmness in-store

Ergonomic Support Foam ?(For spine alignment)

?

Built-in Air Circulation System

Waterproof & Dust Mite Free

Fire-Resistant Cover (Non-Chemical)

?
See the Mattress
What makes the Ecosa Memory Foam Mattress unique?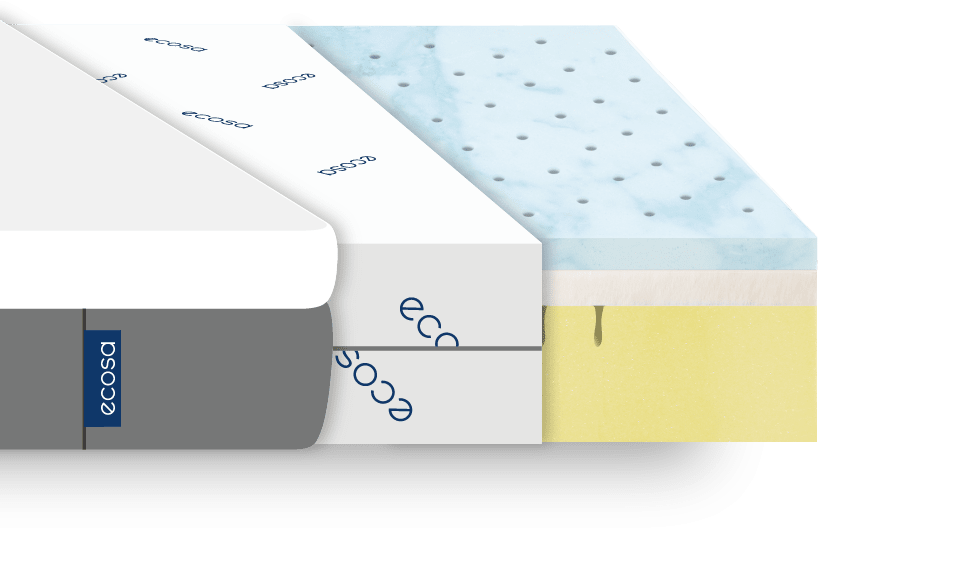 1
Adjustable Firmness
Our mattress comes in three well-engineered layers. There's a firmness level for every sleeper. We've got your back.
2
Extra Coolness
Never sweat in bed again with our built-in air circulation system. The layers are tied in together through pin-core holes - letting your mattress breath through the night.
3
Waterproof and Dust Mite Free
Sleep clean and easy with our waterproof and dust mite free inner cover. It keeps your mattress safe from allergens, dust mites, and even liquid spills.
The Best Value Mattress
Mattresses in retail stores can get crazy expensive. Often on premium locations with highly-commissioned salespeople, you might be paying double or triple the actual cost! Industry experts say some mattresses bought for $1000 or less would retail for up to $3000. That's cost-padding of up to 240%-300%. Luckily, you don't have to break the bank for a good night's sleep with an ecosa mattress.
Mattress Scenarios
It can't hurt to be a little prepared.
What if I have a preference for mattress firmness?
You are on the right page! Each Ecosa mattress comes with three layers of firmness you can easily swap whenever. While Sealy lets you choose firmness in-store, we think each individual is different and has a right to change-of-mind. Not feeling medium-firm anymore? That's perfectly fine - just flip the layers over.
What if my dog or kids wet the bed?
Not a worry! Our mattress is protected with a waterproof inner cover made of German micro-filaments. This is a specialised fabric for oil and liquid absorption. Should there be a pee incidents, there won't be seepage through the mattress. Just take out the cover and run it in the washer.
What if I realised the mattress isn't for me?
If you're not in love with the Ecosa with 100 nights, you may return it free-of-charge. If you choose to return a Sealy mattress, it will be solely at the retailer's discretion. There's no standard metric as to what qualifies as returnable or non-returnable. Here at Ecosa, we'll accept returns for any reason within the trial period and give you a full refund for it.
Packaged and Sent with love
Hassle-free from Point A to Point B.
We source all of our raw materials and have them made at our own manufacturing facility. This allows us to be more hands-on with our processes.
Our mattress comes compressed in a box for easy assembly and manuevering. It can be a one-person job if you're physically-able.
Don't love it for any reason? Return it to us free-of-charge within 100 nights.
Get better quality sleep for less. Take $200 off your mattress today.
We'll take it from here.
Outstanding Customer Service
Our Dream Team is available to answer any queries you may have Mon-Fri 9am-5pm AEDT.
Free Shipping & Returns
No added or hidden costs to your mattress. We'll ship and pick it up free-of-charge.
Same-Day Delivery
Get your mattress within the same day in Melbourne, Sydney, Brisbane, Perth, and Adelaide!
Shop Now
Ecosa Gives Back

All mattress and pillow returns go to our partner charities. To date, we've donated a total of 3,000+ mattresses and 300+ pillows.
Ecosa > Sealy
You can take their word for it.
Brilliant
We bought a king single mattress for our 6-year-old's big boy bed - planning for the next 10+ years. All I can say is that I now want to throw out our Sealy and buy an Ecosa for our own bed!
At Last
Our new mattress is everything we had hoped for. Our previous King Size Sealy cost us $4800 in a sale, it was the worst bed ever. We sent it back once, it came back supposedly fixed, it wasnt. We went through three years of terrible nights and finally cut our losses. We just love our new bed, so comfortable yet firmish, our aging backs have improved, we can actually move in the mornings, thank you so much.
Excellent support and comfort - no more tossing & turning
My wife and I have had this mattress for 3 weeks now. It's very supportive when laying down (I thought it might be too soft when I first got it but when my weight is spread out laying down it's just right). I often get to bed later than her but with the ecosa I can get into bed without disturbing her side. Our 5 year old Sealy became very uncomfortable and I'd toss & turn just trying to find the right bit to sleep on, so the ecosa so far has been wonderful with consistent support. Great to have a washable cover too with these hot Sydney nights.
So happy with Ecosa King mattress
Saw Ecosa on Instagram while looking for a new, firmer mattress to replace our Sealy. Decided to give it a try despite concerns on buying a mattress online without testing it first. The delivery didn't quite go to plan, and took a few days to turn up, but communication with Hannah at Ecosa was great; she was very concerned and helpful. When it arrived, we found the wheeled box to be really sturdy and cleverly built for transport, so getting the mattress home to an apartment block was far easier than moving a normal innerspring. The included safety cutter for slitting the vacuum pack without damaging the mattress is a great thought, and the mattress pops out to full size without any nasty creases or wrinkles. We gave it 24 hours to air out the rubber adhesive smell, which was all gone the next day. The construction is excellent, and the materials all look and feel solid high quality. The removable cover promises to be a bonus for taking off to wash now and again. When you lie down, the feel is firm, but pliant and supportive. We liked it immediately, and slept really well from the first night. It's quite true-as per the website promos- that with two people on the mattress, you can hardly feel it when the other gets up or moves around. In fact, you barely notice if they take a flying leap onto the bed! Coming from a high end pillow top mattress we've found this a step up in comfort, quieter without the springs, while solving the issue of partner disturbance, all at a much lower cost than a top brand innerspring of comparable quality. The long term durability remains to be seen, but there's a 15 year warranty there and so far we've had no reason to doubt the quality, or Ecosa's customer service, which was very good as mentioned above. I would not call this a hard mattress, it feels quite plush actually, it simply is not mushy or bouncy, so unless that's what you like the Ecosa is definitely worth a try. We love it, and are considering one for the guest room too.
Amazing mattress
Really love our Ecosa mattress. Bought this to replace a Sealy mattress and really happy with the outcome.
King Size Mattress
The past 5 weeks with the Ecosa mattress have been life changing. Seriously, I am astonished by how much better my body is feeling. After having back problems for the past 5 years from a fracture, I now have mobility and feel rested when I awake. I am no longer waking in the night with pain or soreness in my joints. On my previous Sealy Posturepedic, I would awake stiff, sore and fatigued. This mattress was more than 5 times the price (even in a 40% sale) of the Ecosa and I thought the more you paid the better the sleep. How wrong I have now been proved. I also thought the memory foam would make me sweat, which it does not, and we had a few warm nights just after this arrived. I had previously come to the conclusion that my husband and I would always have to comprise to accommodate the others sleeping preference and firmness. This has not been the case and we can both see and feel a vast improvement in our mood and general wellbeing. The fact I can turn or get out of bed and not disturb him at all is awesome. It is surprising how frequently we would wake one another on a sprung mattress. We slept on the mattress for 3 weeks and then after reading other reviews decided to try the mattress topper. This has taken the mattress to another level of comfort and I highly recommend the investment.
More Reviews