What Is a Mattress Topper and Do I Need One?
Posted on:
August 27th 2018
Mattress toppers have been gaining more market presence in the recent years. But to this day, we still get daily queries about it - many are still confused about what it does. This article will explain to you what a topper is, why you should consider it, and when you should actually buy one.  
A mattress topper is a removable layer that sits on top of a mattress to provide cushioning and support. It's easy to use and put over. Some toppers will sit at the top, while other toppers have straps to keep them from moving around the bed. 
There Are TWO Main Reasons You Need a Mattress Topper
There are two general purposes that mattress toppers serve: 1) make a firm mattress softer, or 2) remedy a shabby, sagging mattress. 
Mattress Toppers Are NOT The Same as Mattress Pads
The terms mattress topper and mattress pad get loosely and interchangeably used often. Technically speaking, they're not one and the same. 
Mattress pads are usually thin layers of material made to protect the mattress from moisture, dust mites, and bacteria. While cushioning is not a mattress pad's main purpose, it can give added comfort as well. Mattress toppers, then, can be a type of thick mattress pad that both provide protection and comfort to sleepers - hitting two birds with one stone. 
5 Popular Types of Mattress Toppers
A mattress topper can be made of different materials. Depending on the material, the pros and cons of the topper will change. If you are allergic to some materials - such as latex or feathers - it's worth your while considering other toppers. 
Cotton & Polyester-Blend toppers tend to be one of the cheapest in the market. They mimic the feeling of sleeping on a featherbed topper - light and generally breathable. The downside is that they can easily wear-out. The fills tend to move from one side to another - unable to offer long-lasting comfort with very low support. 
Latex toppers are made from a natural material naturally resistant to dust mites and bacteria. It's hypoallergenic - except for latex allergy sufferers. However, it's on the more expensive end of the topper spectrum. It can also lead to discolouration and crumbling in the long run due to oxidation. 
Wool toppers are one of the most expensive toppers in the market. They are thermal regulating but are not as commonly found as other materials. 
Feather toppers are one of the softest toppers in the market. Their feel is similar to that of a feather-filled duvet. Like cotton and polyester-blend toppers, the feathers can get lumped on one side more than another thereby losing relevant support for the body. Feathers can leak and escape the fabric as well.
Memory foam toppers offer a good balance of comfort and support. It's soft yet supportive. Memory foam can mould to the body and evenly distributes a sleeper's weight. This also reduces partner disturbance. A well-engineered mattress topper should have a built-in cooling mechanism to fight any tendencies of memory foam to be hot.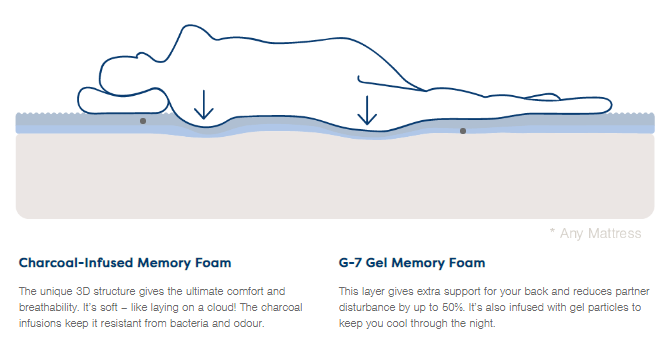 The Ecosa topper has two layers of memory foam: charcoal-infused memory foam to keep the surface soft, and gel-infused memory foam to provide extra support. 
Mattress Toppers Increase Comfort, But Isn't a Solution For an Old Mattress
Sometimes getting a topper can be counterproductive. So how do you know if you should really get one? 
You only need to ask yourself two questions: 
Is your mattress too firm?

How old is your mattress? Has it started sagging?

Toppers are made and great for providing extra cushioning. Their main purpose really is to make mattresses softer and more comfortable.

So if you're considering a mattress only because you find your mattress too firm for your liking, a topper is the way to go. 

Mattresses, depending on the material and care, are expected to last between 5-10 years. If your mattress shows signs of wear-and-tear such as sagging, a topper may be quite an expensive and short-term fix for it. 

Instead, consider investing in a new mattress that can last you the next 10-15 years. 
The Best Mattress Toppers are Breathable, Comfortable, and Supportive
There are many toppers out there in the market, but the right ones will serve their purpose for a longer period. 
A balance of comfort and support is what you want - a topper to keep your body cushioned, cradled, and supported through the night.