Is your bed too firm for your liking? Is your mattress sagging under your weight? A mattress topper is exactly what you need! But what is it? What does it do? Is it the same as a mattress pad? What are the different kinds of toppers? All of your questions will be answered to help you understand why you need this particular bedding item.
A "Bed" Over the Bed
A mattress topper is a removable layer that sits on top of a mattress to provide cushioning and support. Because of its thickness, a topper can also be used as a mobile mattress itself. So, the next time you want to lay down out in the yard or in the middle of the living room, just roll out the topper and lie down in comfort.
READ: The Verdict on Magnetic Mattress Pads and Toppers
There Are TWO Main Reasons You Need a Mattress Topper
There are two general purposes that mattress toppers serve: 1) make a firm mattress softer, or 2) remedy a shabby, sagging mattress.
Firm mattresses may serve some people well, but others have a hard time sleeping on a firm bed. Since buying a new one may be too costly, especially when you're bed's still in tip-top shape, you can use a topper instead. A topper just like our Ecosa Topper makes your sleeping area feel 20% softer than it used to be, allowing you to rest comfortably.
This topper may even come in handy if you live with a partner that sleeps well on a firm mattress. You can keep the topper on your side while your partner sleeps on the firm mattress. You both get to sleep comfortably!
Mattress Toppers Are NOT The Same as Mattress Pads
Now, the terms "mattress topper" and "mattress pad" are often confused. Technically speaking, they're not the same. 
Mattress pads are usually thin layers of material made to protect the mattress from moisture, dust mites, and bacteria. While cushioning is not a mattress pad's main purpose, it can give added comfort as well.
On the other hand, mattress toppers are a type of thick cushioning that provide both protection and comfort to sleepers — two birds, as they say, but with one topper. A special type of topper — the Ecosa Topper — provides even more benefits such as decreased sleep disturbance, no slippage, easy cleaning, and eco-friendliness.
If you or your partner is a light sleeper, movement by the other can be reduced by 50% with the Ecosa Topper, keeping the light sleeper disturbance-free. This is because of the grippy back of the topper as well as the elastic straps on all corners. It will not slip about that easily.
In addition, the Ecosa Topper comes with a removable cover that you can throw in the washer. Lastly, the cover as well as the inside are made from certified OEKO-Tex Standard 100 cover fabrics. So, you can see that not all mattress toppers are made equal.
5 Popular Types of Mattress Toppers
A mattress topper can be made of different materials. Depending on the material, the pros and cons of the topper will change. If you are allergic to some materials – such as latex or feathers – it's worth your while considering other toppers.
Memory foam toppers much like the Ecosa Topper offer a good balance of comfort and support. It's soft yet supportive. Memory foam can mould to the body and evenly distributes a sleeper's weight. A well-engineered mattress topper should also have a built-in cooling mechanism to fight any tendencies of memory foam to be hot. In fact, the Ecosa Topper has integrated G-7 gel particles that create a 3D structure. Air then flows through pincore holes and disperses inside the topper, cooling you at night.
Shop the Ecosa memory foam mattress topper.
Cotton & Polyester-Blend toppers tend to be one of the cheapest in the market. They mimic the feeling of sleeping on a featherbed topper — light and generally breathable. The downside is that they can easily wear-out. The fills tend to move from one side to another, unable to offer long-lasting comfort with very low support.
Latex toppers are made from a natural material naturally resistant to dust mites and bacteria. It's hypoallergenic, except for latex allergy sufferers. However, it's on the more expensive end of the topper spectrum. It can also lead to discolouration and crumbling in the long run due to oxidation.
Wool toppers are one of the most expensive toppers in the market. They are thermal regulating but are not as commonly found as other materials.
Feather toppers are one of the softest toppers in the market. Their feel is similar to that of a feather-filled duvet. Like cotton and polyester-blend toppers, the feathers can get lumped on one side more than another thereby losing relevant support for the body. Feathers can leak and escape the fabric as well.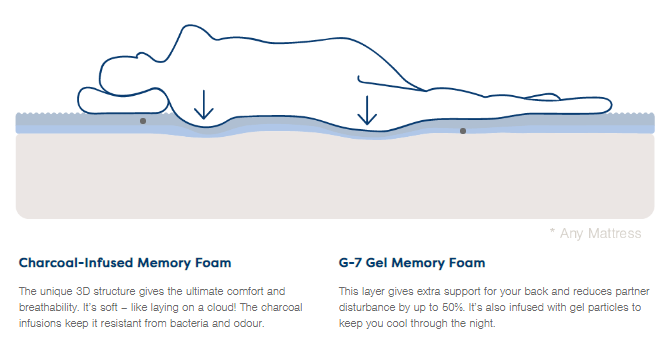 The Ecosa topper is made up of gel-infused memory foam to provide extra support and keep the surface soft.
Mattress Toppers Increase Comfort, But Isn't a Solution For an Old Mattress
According to a 2020 online survey made by BedBuyer.com, over 20% of Australians sleep on mattresses that are more than ten years old. In a similar case, should you get a mattress topper to get rid of the sag in an ancient mattress?
To reach an answer, you only need to ask yourself two questions:
Check out: Ecosa's Memory Foam Mattress
The Best Mattress Toppers are Breathable, Comfortable, and Supportive
There are many mattress toppers out there in the market, but the right ones will serve their purpose for a longer period.
A balance of comfort and support is optimum. A slew of other features is a privilege within your reach. Opt for a topper to keep your body cushioned, cradled, and supported, while staying cool throughout the night.
Shop the Ecosa mattress topper now.
You might also like:
Lifespan of the Ecosa Mattress vs. Other Brands