When it comes to styling your bedroom, your bed sheets can begin to define the overall vibe of the room. Your bed is probably the biggest focal point in your bedroom, so what you drape over the top plays a big role in establishing your bedroom style.
With Ecosa's brand new range of colours in our bamboo sheet range, you can mix and match to find palettes that set the tone for your interior bedroom goals. Check out our bedroom ideas to help you nail your sleepy haven.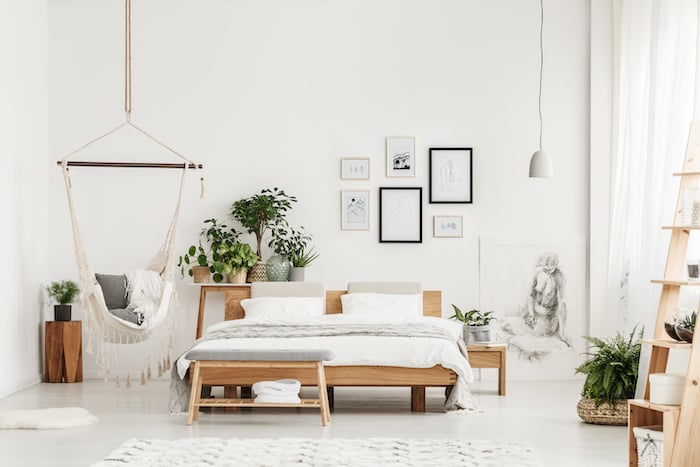 Ocean Beach
Want to turn your bedroom into a rustic, breezy beach house? Turn to shades of beige, cream and grey-ish blues to create a beachside vibe no matter where you are. Mix and match your pillowcases, quilt cover and sheets in colours that tell your beach house story, and complete with 3-4 throw pillows to make your bed more inviting than ever. If you've got the space, fill a corner with a rustic bedroom furniture like a wicker chair, and use rustic baskets for storing your essentials. A piece of macrame wall art and an oceanscape print will complete your easy beach look.
Ecosa recommends: for beach house bedroom style, layer our sky blue, ivory and oat beige bamboo sheets, quilt covers and pillow cases along with your home decor accessories. If you're drawing in ocean tones, choose a sky blue quilt cover, white pillowcases and gently fold the oat beige top sheet back over your ocean-washed blue quilt. For a more stoney-white look, layer an oat beige quilt with an ivory top sheet.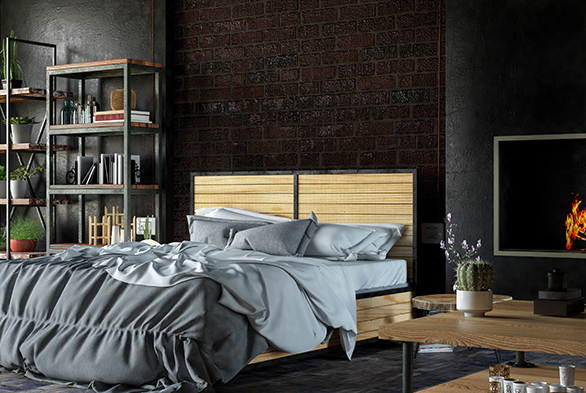 Dark and Stormy
Love that moody, expensive look you see in the pages of glossy magazines? Recreate it at home with dark, silky sheets, plush carpets and rugs, and abstract wall art in a light, neutral palette. Opt for accents of velvet and faux fur for added textures, and allow light in through the windows to lift the atmosphere. Complete the look with sleek marble and metallic accessories like bedside lamps and desk ornaments.
Ecosa recommends: layer our glossy black, charcoal and grey bamboo bedding for a dark and stormy style that oozes city sophistication. Perfect for urban apartments and modern renovations, the sleek finish on our organic bamboo bedding ties together a moody interior.
Vivid White
Is white on white on white your happy place? The clean, crisp aesthetic of white can make any room feel lighter and loftier – but it's important not to go overboard. While white has a feeling of luxury to it, too much at once can look clinical. Make sure you offset your white pieces with some softening neutrals. Opting for a light timber bed base and bedroom furniture in a matching wood tone can tie together the vastness that white can cast over a room. Place a wooden clothing rail in the corner for ultimate Scandi minimalism.
Ecosa recommends: treat your bed to the silky white feel of our white bamboo bedding, and offset with an oat beige flat sheet to complement a timber bed base, or a grey sheet set to mirror an upholstered bedhead.
Mono Mania
Live for monochrome? Take on a modern monochrome bedroom style by pairing faux suede and fur textures in rugs and throws with clean white furniture and a dark charcoal feature wall. Hang dark-framed fashion prints with lots of white space, and accessorise with geometric wire baskets and monochrome throw pillows.
Ecosa recommends: monochrome maniacs will love our silky black and white bamboo sheets and pillowcases, that can be layered and draped any way you like. Top tip: use the black sheets for high-spill zones (like the fitted sheet) to prevent staining, and fold the duvet cover back to reveal your chosen top sheet accent colour underneath.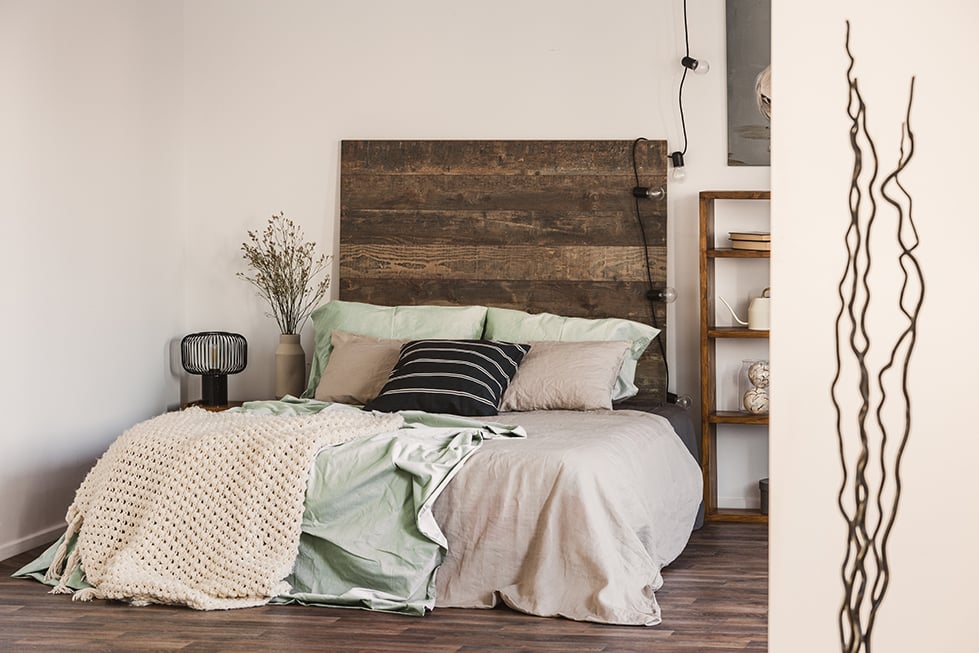 Rustic Country
If a luxurious farmhouse stay has inspired your bedroom makeover, rustic, earthy tones will bring your vision to life. Opt for vintage-looking furniture that's perfectly imperfect or better still – lovingly restored. Seek out unique pieces to enhance the rustic feel, like wicker baskets or a wooden chest for the end of your bed, and then work with a palette of creams, light khaki greens and soft beiges with your bed sheets and accessories. Introduce textures with raw finishes on rugs, throws and curtains, and if your building structure allows, exposed brick can add an extra layer of farmhouse style.
Ecosa recommends: our earthy glacial green bamboo sheets work beautifully with the softness of our ivory and oat beige options. Work with your accessories and any artwork to mix and match in all sorts of ways.
Shop the brand new Ecosa bamboo family here.
Check out: Ecosa's Bedside Table with Smart Storage