It's such an exciting time in parents' lives when they are expecting a baby. What comes after the initial surprise and excitement is preparation; you'd be shocked to learn just how much you need to buy or prepare before your baby arrives, because you surely won't have any time once they do. 
Newborns sleep an average of 14-15 hours within 24 hours, so one of the most significant things to consider should be your newborn baby's sleeping environment.
Newborns are very fragile, so just letting them sleep on any surface that's not designed for infants is not recommended, and on occasion can lead to complications, and in extreme cases can cause SIDS.
Babies, and particularly newborns, sleep so much because it is part of their growth process. So it makes sense to invest in a cot mattress that would keep your precious children safe, comfortable and supported as they sleep. 
In this article, we take a look at what makes a good cot mattress and how to pick the right one for your little one's needs.
Why Get a Cot Mattress?
So what's so important about cot mattresses, and how are they different to adult mattresses? Our focus for mattresses is comfort, but for babies they need support and safety. 
Cot mattresses are designed to be firm, with enough support for your baby to move and grow. Having a mattress that's too soft can possibly cause suffocation for your little ones.
For example, if an infant rolls while in bed and lands face first, a mattress that's too soft would allow their face to sink and block airways.
What to Look Out For
Whether you're buying a cot for the first time or planning to replace your current one, you should invest in one that meets your needs and is designed to last a long time. Listed below are some of the things you should be looking out for when purchasing a cot mattress.
Is It Safe?
As mentioned earlier, safety should be the primary consideration when buying a cot bed for your bub. A baby's cot is designed not just to let them sleep comfortably for hours, but to also keep them safe so you can sleep with peace of mind.
Ensure that your cot mattress is compliant with the AS/NZS Voluntary Standard – Australia and New Zealand's standards for infant mattresses' optimal firmness.
Check the manufacturers if they comply with AS/NZS certification, as this can be your guarantee that they have met all the standards to keep your newborn safe.
Is It Breathable?
Breathability is especially important for cot mattresses so your little one can breathe easy while they sleep. 
For a mattress to have good breathability, it must be made of materials that promote good airflow; this allows the air to circulate well in order to keep your baby cool and regulate their temperature.
A breathable mattress is also a safe mattress. If your newborn rolls over and lands face-first into the mattress, their breathing would be less obstructed.
Are the Materials Baby-Friendly?
You should also consider what your mattress is made of. Are the materials natural and chemical-free? Given how much your baby will sleep, choosing the wrong materials might cause skin irritation to their skin.
Choosing materials that are naturally antibacterial, hypoallergenic and less prone to dust mites  can prevent your baby from experiencing allergies due to their sleep environment.
Is It Easy to Wash?
One thing babies are known for is that they wet the bed… a lot. Even with their nappy on, your little one can still leak and make a mess of their cots.
It's one thing to make your baby sleep comfortably, but it's also another thing to ensure that you won't have a hard time cleaning up after your baby makes a mess.
Opt for cot mattresses with machine-washable mattress covers and if possible, look for mattresses that could be washed too, as this will make cleaning a breeze. Purchasing a second mattress cover can save you a lot of time when those small night accidents happen. Simply switch covers and head back to bed, leaving the washing for the morning. 
Will Your Little One Grow with It?
Babies grow fast, so going for a tiny cot or bassinet may not always be the best option. If you haven't purchased a cot yet, go for the largest that you can afford and fit inside your room or your baby's sleeping quarters. Cots come in varying shapes and sizes depending on the brand.
Look for materials that are designed to last so you could keep them when your little one has outgrown them and ready for when baby number two comes along.
Meet the Ecosa Cot Mattress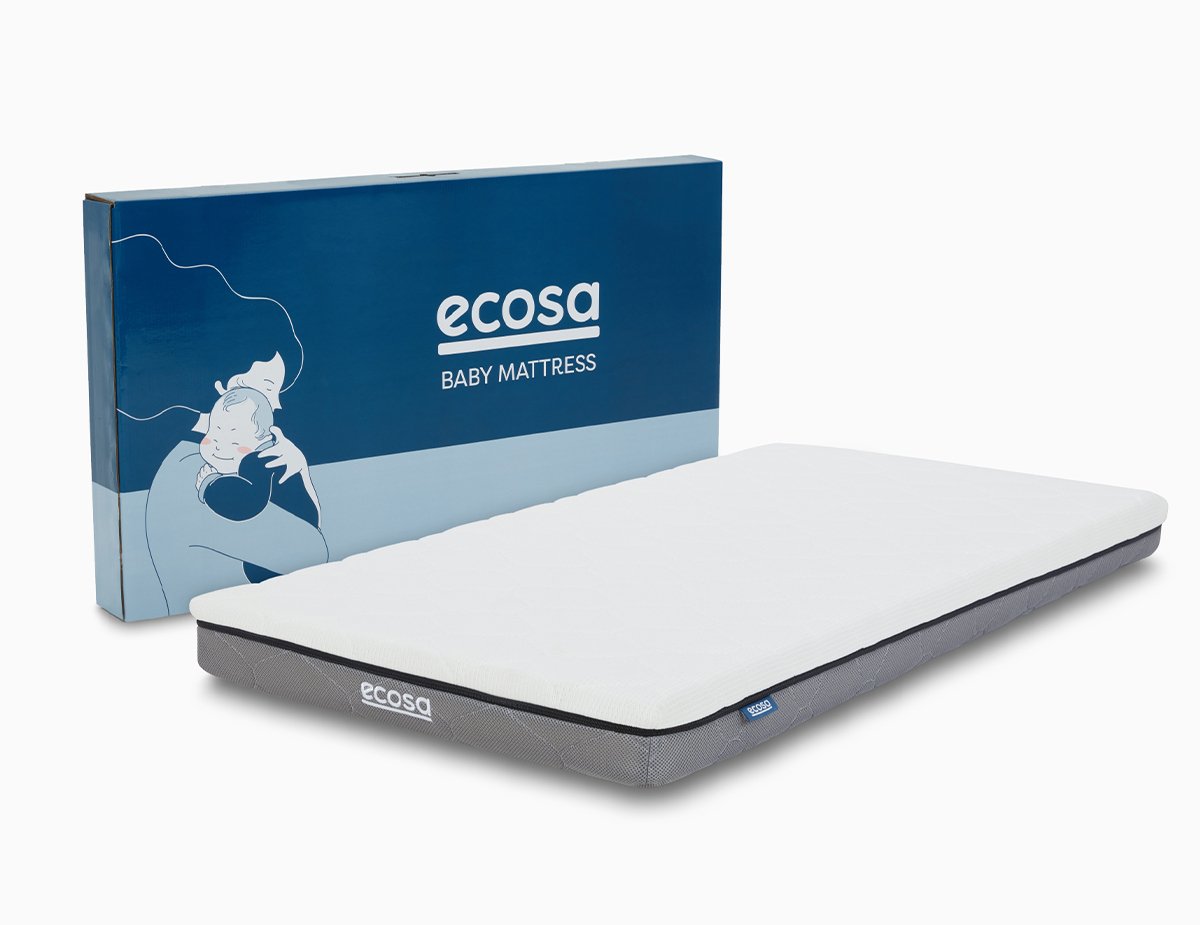 In the market for a cot mattress? Say hello to the latest addition to the Ecosa family!
The Ecosa Cot Mattress is designed for your peace of mind. It ticks all the boxes for safety, comfort and design, plus it meets AS/NZS safety standards, giving you the assurance you need for you and bub.
The Ecosa Cot mattress's sleeping surface is firm and offers the optimum support needed to help maximise your baby's development.
Your little one would also be able to sleep cool as the Innovative Nestflow™ Core promotes proper ventilation and air circulation through the mattress.
The Ecosa Cot Mattress comes in 7 different sizes, meaning that whatever cot you'll buy, we have a mattress that fits. Plus the adjustable layers means that as your baby grows, the Ecosa Cot Mattress can grow with them, up to the age of 4.