Our Ecosa travel blogger feature for May is adventure couple @MishAndKirk. Newlyweds, sustainable living advocates and full time nomads, Mish and Kirk are making their way around the world capturing the best moments off the beaten track.
We caught up with them to chat all things world travel, quitting the 9-5, saving the planet and of course, why they love their Ecosa.
Ecosa: When did you start traveling, and why?
Mish & Kirk: We started our travels together from the moment we met. Our first trip was to New Zealand where we spent a month living the van life, exploring through the mountains and forests. It was from this trip onwards that we both knew that we wanted to see as much of this world together, hand in hand.
E: What does travel mean to you?
M&K: Travel excites us like nothing else. Immersing ourselves in the culture and traditions of a new country, treating our taste buds to new foods, spices, ways of eating – it's incredible.
We Travel to Learn, We Travel to See the Bigger Picture, to Enjoy, to Roam, to Wander, and to Share.
E: What has been your favourite place to visit?
M&K: It is so hard to pick just one favourite travel destination, when we have so many fond memories from all over the world. But a moment that stands out for us would be our 3 month road trip across the USA. We visited around 12 national parks in 12 weeks, living in our van, sleeping under the stars. Going on adventures through the mountains and waking up each morning somewhere new was magical.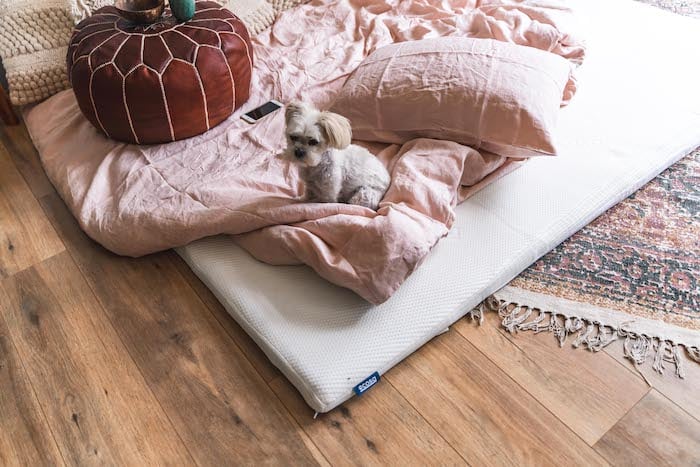 E: Tell us about your travel plans for the rest of 2019.
M&K: This year we have a heap of camping and road trip adventures planned in our home country, Australia. We also will be heading to Spain for a few weeks, and Sri Lanka and India are also both on the top of our dream lists this year too!
E: What's it like traveling with your Ecosa mattress?
M&K: We LOVE how dreamy of a sleep we have with our Ecosa! We never wake one another up when we get in and out of bed, which means that we always have the BEST sleep and are ready for adventures the next day! We often wake early to catch the sunrise whenever we travel or camp, so having a great night sleep is so important to us,
We also love how easy it is for our Ecosa mattress to come with us when we go out camping for a few days. I fits right into our tent and it means that we wake up feeling fresh as anything the next day for whatever adventures are ahead of us.
E: And finally, what's your number one travel tip?
M&K: Three words: leave no trace. We advocate for sustainable travel whenever we can, and if we can enjoy this planet without leaving a trace, it's happy days. Always pack a reusable bag to carry out your rubbish with you, pack reusable bottles and coffee cups to reduce your disposables, and where possible, try and avoid the tourist hot spots. The magic we come across always are the places that are off the beaten path.
Follow @MishAndKirk 's adventures on Instagram, and shop the Ecosa mattress and topper now.